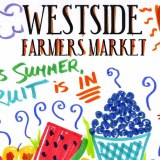 The Westside Farmer's Market
831 Genesee St, Rochester NY 14608
westsidemarketrochester.com
The Westside Farmers Market is open weekly on Tuesdays from 4pm-7:30pm during the months of June to October, in the St. Monica parking lot on Genesee St. The Westside Farmers Market promotes the individual and social health of our community by creating access to fresh, local foods in a vibrant and informative, weekly gathering in our urban neighborhood. Shoppers are encouraged to come to the market, meet the farmer or vendor, make their purchases, socialize with friends and neighbors, enjoy the live music and entertainers, relax and enjoy the evening.